me, more or less
I'm on a diet. And I'm ashamed to say I'm proud to say this. Meaning, I'm ambivalent about bowing to convention re: size, weight, etc. Frankly, I'm not that unhappy with my size/weight. Which is why I've not panicked at the extra lbs/year. But...
It's not for now. It's for later. I want to be as healthy 30 years from now as I am now. That's my goal.
That said...
It's like a competition. And I'm winning! Being a techno-weenie, I love the little bar chart that shows where I started and where I should be weeks from now. I'm tickled about everything with this. I'm probably driving folks crazy with my incredulous exuberance. I'll keep you posted.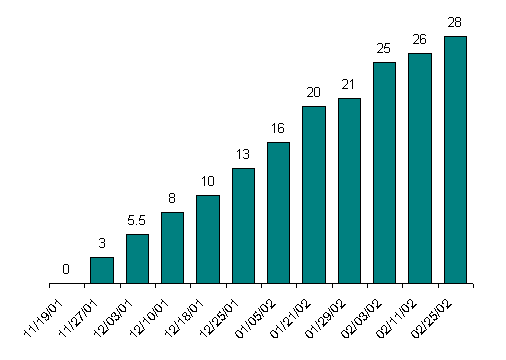 **update: 05.30.02**
Still going, just not as strong as before. Was sick practically all of March, and plateau'ed. Was holding steady for a while then, for vacation, then "birthday season", completely went off plan. When I saw I'd gained 6 pounds, I panicked. Then thought about it. Then decided to start up again.
I refocused on why I started, what my goals are, why those goals are important. And the weight I'd gained just disappeared.
This is easy - being conscious and present with food, what I put in my mouth - when I realize that it's just another outward implementation of what I desire for my inner life.
Easy to do;
easy to not see as sacrifice;
easy to let go of attachment to immediate satisfaction;
easy to think of, and be hopeful for, and anticipate, and be thankful for, future well-being;
easy to be thankful and grateful for past accomplishment.
**update: 06.14.03**
Took a hiatus (silly me!) But got going again a few weeks ago. I'm still 23 lbs down from when I started out 11/01, and I feel really greatful for that.
As much as I love foods, all kinds of foods, I love life more. And I'm focused not on the scale, but on being strong and healthy, and staying alive. Remembering what started me out - my father's lack of good health, my dear aunts' lack of good health, the seemingly almost inevitable progression with age of adult onset diabetes for folks in my family, and recently, the unexpected death of a wonderful cousin - keeps me going. This is serious business for me.
That said, I've rediscovered some of my old exercise tapes, especially the aerobics, especially step. Holy crap, I love that stuff! I'm having such a blast!

sites